Local Indonesian villagers rescue refugees on Thursday (6/25/2020), along the coast of Lancok, Syantalira Bayu District, North Aceh, Aceh and helped to evacuate ships full of Rohingya refugees who had escaped the horrors still happening in Myanmar.
This is just one of the many thousands of attempts to escape violent and abusive conditions since the exodus began on August 25th, 2017 after Rohingya Arsa militants launched deadly attacks on more than 30 police posts. The people of Rohingya have continued to migrate across the region in significant numbers since then trying to leave Myanmar. This is a modern example of ethnic cleansing infiltrated by Myanmar's army against Rohingya Muslims who are being forced to leave their homes.
Rohingya Crisis: Insurgents stage deadly attacks in Burma's restive Rakhine state (YouTube) FRANCE 24 English
In January 2020, the UN's top court ordered the Buddhist-majority country to take measures to protect members of its Rohingya community from genocide.
But the army in Myanmar (formerly Burma) has said it was fighting Rohingya militants and denies targeting civilians. The country's leader Aung San Suu Kyi, once a human rights icon, has repeatedly denied allegations of genocide.
At least 288 villages were partially or totally destroyed by fire in northern Rakhine state after August 2017, according to analysis of satellite imagery by Human Rights Watch.
There were an estimated one million Rohingyan living in Myanmar at the start of 2017, the Rohingya Muslims represent the largest percentage of Muslims in Myanmar, with the majority living in Rakhine state. But the government of Myanmar, a predominantly Buddhist country denies the Rohingya citizenship and refuses to recognize them as people. Instead, they see them as illegal immigrants from Bangladesh.
Why did they flee their homes?
Surviving Rohingyas who fled to Bangladesh said they escaped troops backed by local Buddhist mobs who burned their villages, raped women and young girls, and attacked or killed civilians.
So far, at least 6,700 Rohingyan, including at least 730 children under the age of five, were killed in the month after the violence broke out, according to medical charity Médecins Sans Frontières (MSF).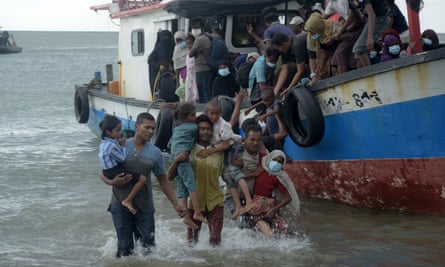 On Lancok beach, where survivors gathered, a man knelt with his head on the sand, thankful to be alive. Another embraced a member of the rescue team tightly.
Local people said they had felt compelled to act. A day earlier, fishermen had spotted a rickety boat packed with 94 Rohingya refugees, including dozens of children, stranded at sea.
Residents were forced to carry out forced evacuations of 94 Rohingya refugees ashore, consisting of 15 men, 49 women and 30 children without the permission of related parties, because residents said they could not bear to see the condition of Rohingya refugees who were watching on the surrounding ships 1 mile from the shoreline. especially children and women in a weak condition due to dehydration and starvation.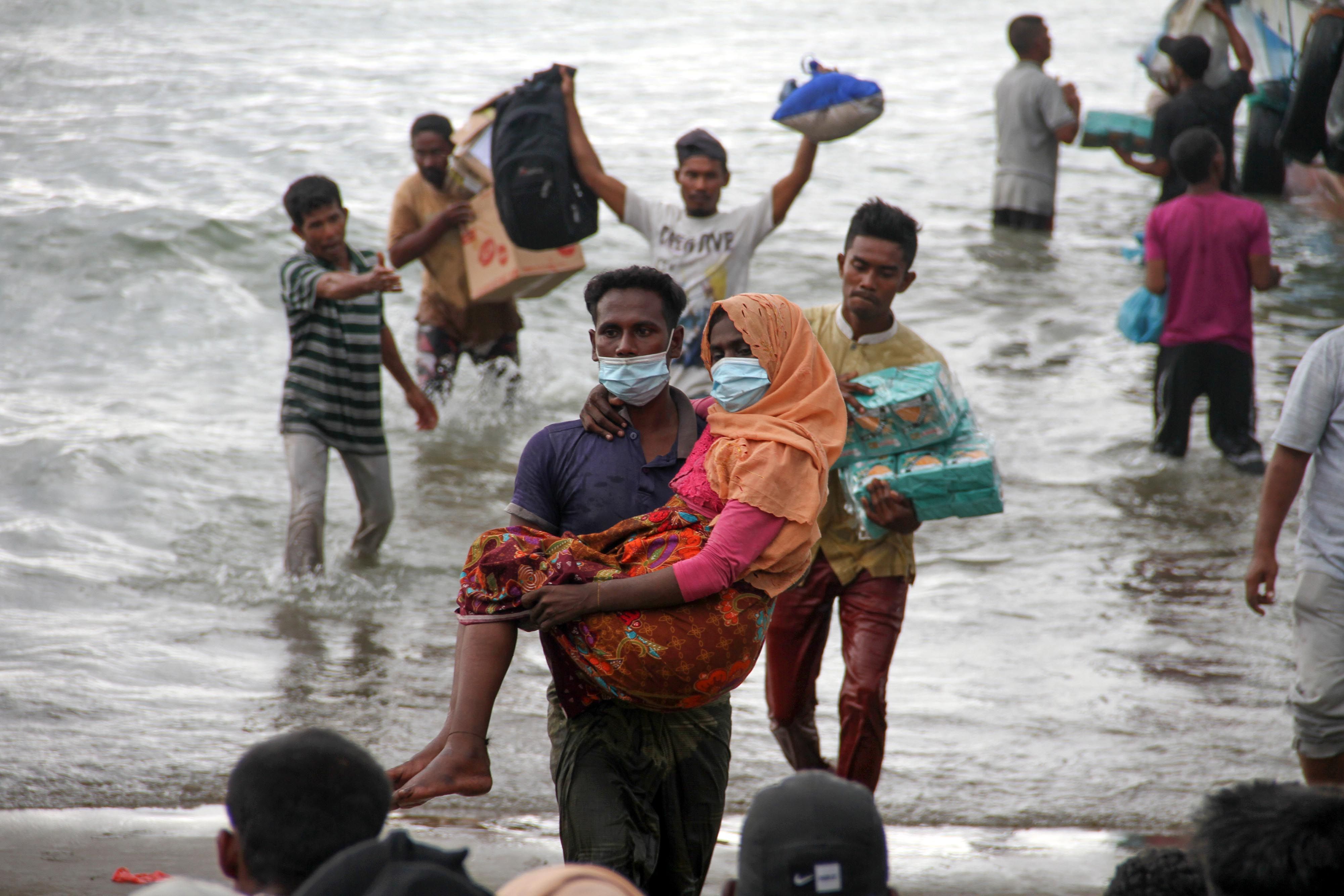 Residents repeatedly urged the authorities to do something, but they were told the group could not be brought to shore because to do so would risk spreading coronavirus. Worried that people's lives were in immediate danger, they took matters into their own hands and sailed out with ropes to tether the boat to safety.
"We didn't worry about getting into problems with the Polici because we believe we were doing the right thing," said Nasruddin, who is head of the nearby village of Lancok. When people had seen the refugees, it had been impossible not to act, he said. "Just looking at the refugees, we were crying,"
A total of 94 refugees, including one pregnant woman, were saved. Amnesty International described the rescuers actions as "a moment of optimism and solidarity".
.
Sources: Indonesian villagers defy Covid-19 warnings to rescue Rohingya refugees
ANTARA FOTO/Rahmad/aww. /RAHMAD